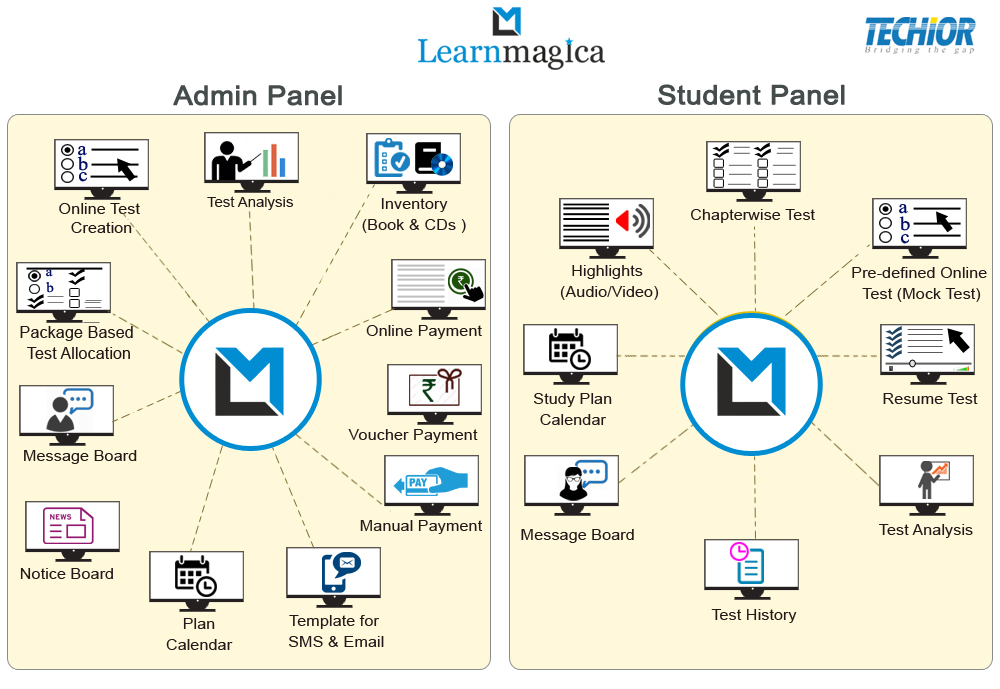 Click Full Size Image
FAQs on Online examination software
1. What is online exam system /software?
The software that will help you conduct the exam with the help of technology is online exam software. These software completely eliminate pen paper based (offline) exams.
2. How do online exams work?
Online exam work in following way:
Import questions from Word doc
Create a test/exam with specified number of questions
Choose type of exam Subjective or Objective
Include test in a package
Student can sign up and register for a package.
Student can take the test online and submit it.
For objective type of tests, students can see the result immediately.
For subjective questions, student can either type the answer or write the answer on a paper and take a pic of the answer and attach the pic to the answer.
Teacher can evaluate the subjective questions online.
Teacher can add annotations, comments to the answer and enter the student marks.
Students can see the result when teacher evaluation is completed.
3. Can cheating be done in online exam?
No, now online examination software come with online proctoring. In remote proctoring exams, candidates are monitored during the exam through a webcam, microphone, and access to the candidate's device screen. Student pic, screenshot and a video clip is captured every 30 seconds – proctors can monitor this real time. Proctors can send one on one message to the student during the test, if they find that the student is looking away or cheating. Proctors can also pause or even terminate student tests.
4. Which Software is used for conducting online exam?
Learnmagica.com is a rental platform which can be used by any institute to conduct online exams. Setup time required is minimal and institutes can start taking tests as soon as they subscribe for it.
Features to be consider while choose online exam software
User-friendly and easily accessible
Easy to create tests and conduct exams
Online evaluation of subjective type questions
Inbuilt Proctoring Feature
Comprehensive reporting and analysis